StanHome Cavalier News
Crufts 2006 results for StanHome
Muffity Adorable Ellesse of StanHome
Judge George Donaldson
This year for the first time we took three of our cavalier bitches. Never again we just didn't seem to stop and had no time to shop or look around at all. It was extremely busy and some of the people seemed particularly intolerant this year. Several of the competitors were informed they were in the way and one even got told to get her dog and it's cage out of their way in no uncertain terms - incredible, we sometimes wonder who the show is for. Ellesse went in first, I had not been able to show her for quite a while because she had lost a front tooth so I had to wait until she was old enough the enter the veteran class. She just took it in her stride as though she had never had a break in the ring at all, as if to say don't worry mum I am an old hand at it now. She went out with all her normal enthusiasm and energy but it was not her day - although she did get short listed. She had a wonderful time and really enjoyed getting back to the hustle and bustle of the show, she just soaked up all the attention and constant stroking, it was Deja Vu . I did notice that she slept a lot the next day which was her way of saying "been there done that" now I am ready to be your pet. .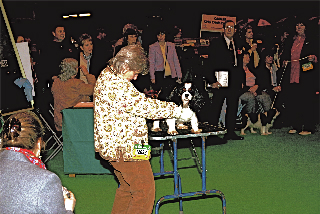 Isn't this Deja Vu with just a few years gap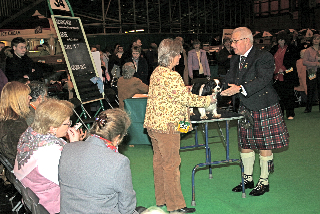 Stop talking and take some notice of me please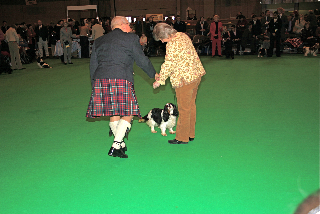 Whats he saying, is it a private joke or can I join in.
FLEUR
| | |
| --- | --- |
| | |
| No I won't say Bonio for him, I'm here to show not smile at the camera and mum's hiding as well | Oh dear mum you didn't say we were going on TV. You know this isn't our best side |
| | |
| | |
| When's the judge coming, I can't stand still much longer | Mum told me he was different |
| | |
| | |
| There he's got to my best side, smile for the judge mum | Golly it's hot in here. Lets go for it mum |
MARY
| | |
| --- | --- |
| | |
| You smell nice, do I | Nice straight back, havn't I |
| | |
| | |
| Why am l leading where's the rest | |