Bolognese Breed Information
Believed to have originated from Bologna Italy, mentioned by Aristotle as cannes melitenses, favoured by the Medicis family, they were considered a precious gift throughout the Roman and Renaissance period. Yet today they are a rare  breed.
Characteristics | Breed Standard | History | Care | Art

Characteristics of the Bolognese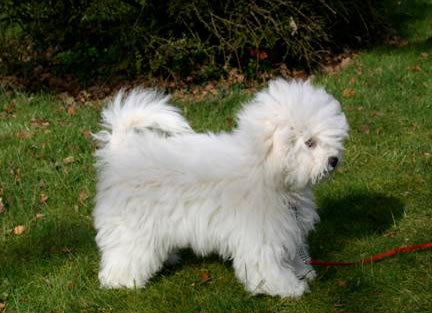 Is the Italian Bolognese right for you?
Owning a puppy or any animal is a dedicated task, they are completely dependant on you for their mental and physical wellbeing. Ask yourself, are you the right person for a dog, is your lifestyle the right one at this point, have you the time and commitment because it does take both, as well as patience, understanding and also money. Any dog is expensive even if you take out pet insurance which is costly and usually there is your part of the bill to pay, if it is covered at all. There is food, grooming products, medicines, a house sitter or kennels and so on. On a positive note if you can answer yes to these questions it will be a rewarding lifelong experience for all of you.
As a breed, Bolognese make enchanting loving companions, they are very very intelligent. Small, white, square and compact with a distinctive single coat: i.e. no undercoat, which falls in loose open ringlets all over the body with shorter hair on the face. Their coat texture is woolly as opposed to silky. It is never trimmed or clipped and is non shedding but will require and must have, regular combing to prevent matting. The eyes are large and dark rimmed as is the mouth, with a jet black nose, pads should be black and it is desirable to have dark nails. They are highly intelligent and love the company of people but are normally quite reserved with strangers. Having very acute hearing they will bark at strange noises, however, they are not yappy dogs. Their coat is non shedding so should not affect low to mid allergy sufferers. At this point in time they have no known hereditary disorders.
Bolognese bond well with animals and people, they are very gentle with children and should never be aggressive. They make very good companions and family dogs as they slot in to the family environment very happily whether it is an apartment or a mansion. However, they do not like to be left alone for any length of time, they are a peoples dog and need their company.
At last there is a book on them which is published by Kennel Club Books called 'Bolognese - a comprehensive owners guide' useful. Written by Wolfgang Knorr. Containing many interesting facts and information on the history of the breed and on how to look after your Bolognese. For many years the only book on them was Italian, written in Italian and now out of print so this is a very welcome publication. As a rare breed it is important to learn all you can about them talk to people with experience, breeders and pet owners, The British Bolognese Club are a great help and will advise you where to look and who to talk to. To own a Bolognese is to learn to smile, to laugh, to enjoy, they give so much and ask so little as long as you are there with them they are content.

They were developed centuries ago in Bologna, Italy, hence the known name of Bolognese and parts of the history of this toy breed have been lost in the mists of time.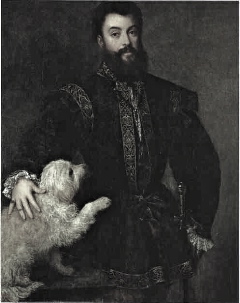 They belong to the Bichon family, some of the more well known ones are the Bichon Frise, Maltese, Lowchen, Havanese and Coton de Tulear and Bolognese all of these breeds are now being shown in the England. The Bolognese origins are confused with those of the Maltese and their distant ancestors are the same little dogs mentioned in Latin by Aristotle (384-322 BC) under the denomination of canes melitenses. Although there are some similarities between them the Bolognese are a distinctive breed in their own right. Aristotle talks about little dogs for company with the name of 'Melitensis'. The origin of the word 'Melitensis' has been much discussed and there are various interpretations on this. According to some, Aristotle lived in Malta, according to other accounts it was indicated that he lived in the Sicilian town of Melito, which in those times was a Hellenic colony. In fact the historian Strabone (66 BC- 24 AD), talks about little white dogs that were also bred in Melito. The philosopher Teofrasto (371-286 BC) gave us another explanation referring to a tiny dog called Maltese. Later around 79 AD Plinio il Vecchio (Plinio the Old) tells of some little Melitei dogs. After that, we completely loose any account of the history of these dogs. Historical sources document that near the middle of the 6th Century the Bolognese conquers the hearts of both Italian and European aristocracies. These noble owners loved to be portrayed in the company of their precious friends, who by that time had almost become a symbol of refinement and also of a certain status.
In the 11th and 12th century they are often seen in paintings and literature, of that time. In 1496 Carpaccio gave us an important testimony in the painting 'Miracle of Saint Marco's relic cross." Duke Frederico Gonzaga was painted caressing his Bolognese, by the Venetian painter Titian in the late 14oos, they also feature in paintings by Goya, Bosse, Wattenau, Pierre Breughel called le Vieux and Goya. Flemish craftsmen dating as far back as the 17th century represented them within their tapestry work. Here are some other irrefutable proofs of this aristocratic tendency. The first demonstration is the 'Portrait of mates /consortes', of Lorenzo Lotto (1523-24) and little later, Titian paints the 'Portrait of Federico Gonzaga', immortalized with his beloved little dog. Another instance confirming the high regard of this breed is portrayed in another artwork by Titian, where, besides Venus goddess of love and beauty, he paints a tiny white dog that is undeniably an ancestor of the Bolognese. The title of this painting is 'Venus and Cupid with an Organist' painted in 1548 -1550. Goya was the artist chosen by the Duchess of Alba, to produce a painting of her with her companion dog - 'Portrait of Duchess of Alba' (1795)
They have been the gifts for Royalty, historical and famous people have favoured the Bolognese, these include Cosimo de Medici (1389-1464) who brought no less than eight to Brussels as gifts to as many Belgian noblemen, even today in Belgian the Bolognese bloodlines show first class breeding results. As in the case of "Eliane" the famous little dog, she was the 1981 World Champion. Philipe II King of Spain having received two as a gift from the Duke d'Este and wrote to thank him saying, "these two little dogs are the most royal gifts one can make to an e Emperor". Ex King Umberto gave two to his fiancée Princess Marie Jose of Belgium on her birthday. Louis XV gave some of them to his mistress Madame Pompadour, Catherine the Great of Russia and Marie Therese Empress of Austria, who loved her little dog so much that at the time of its death, engaged the services of a well known taxidermist to preserve and mount it so it would be with her always, it's body can still be seen today at the Natural Museum of History in Vienna. More recently Marilyn Monroe owned these beautiful little toy dogs.
As time passed, whether due to wars, or the disappearance of the Aristocracy from society the Bolognese tended to go out of favour, they became street dogs, and close to extinction or were bred and selected in different ways. In Russia, for example, there is a breed of dog named the Bolonka, a breed that has not much in common with the Bolognese standard, I believe. The Bolonka is not as yet a recognised breed. To this day ancient lines of Bolognese can be found in Holland, Belgium, France and Switzerland. Italy the motherland of the Bolognese, could not guarantee the breeding and ancestry of the few examples left in their country.
The Bolognese, is a joyful and intelligent breed who were indeed once close to extinction. They were restored thankfully in the early 1970's both in Italy and in Belgium. Senora Adele Walchaertz, a Belgian woman living in Massaroas, Italy, fell in love with the breed after she was given a beautiful Bolognese puppy for her birthday in 1973, which her husband called 'Leone Fiammingo'. She subsequently studied and bred the Bolognese, which she clearly adored, she was quite determined that this beautiful breed should not die out and that they should be considered a 'classic' dog. She keeps the name 'Leone Fiammingo' today as her kennel name.
In Belgium, Mme. Gerda Vansteenkiste revived the Bolognese breed, and restored its popularity in the surrounding countries. She has shown several Bolognese and campaigned to make 'Eliane' a world champion, she is still reputed to be the most prestigious of all time. 'Eliane' subsequently produced a world champion daughter 'Iris de Chaponay', and a European champion son 'Happy de Chaponay'. The line continues today in Belgium at her cousin's Van Het Vogelpark Kennel, now that Mme. Vansteenkiste has retired, these lines are extremely successful in the European show ring today.
There are now over 33 kennels of Bolognese in Russia and Germany. Erika Fassot of the famous 'Ajaccio' kennel of Germany has been breeding for over 20 years very successfully. Her daughter Sandra Block follows in her mother's footsteps with her own 'Sandra's' kennel. The breed is also shown in Holland, where the formerly mentioned lines have been married to the Belgian lines by Leone Buitenhuis at her 'Lierenhof' Kennel in Freisland and has produce champion dogs of form and character.
Mme Kriegel was the first in France to import Bolognese from Italy, the dogs were purchased from Adele Walschaertz of the 'Del Leone Fiammingo' kennel. Some of her stock was given to M. Wissocq of the 'Notre Dame de la Source' Kennel, they continue to be bred today at their lovely home near Lille, France. Some of their little dogs spend the day running around the grounds of his farm and are both hardy and happy accompanying him during his work. His sentiments are shown in the way that his Bolognese integrate into the family, socializing in the large kitchen of the house, stealing the limelight as Bolognese do so naturally.
In 1988 Pernilla Glumstrand of the "Voila" kennel was the first to import into Sweden, this was a bitch from Denmark named "Jabir's Bo-Blanc Aekviva". She followed this importation in 1991 with another female from France named "Elsa de Kalfrety", who later was bred to the German male "Fabrice V Weiben Kindertraum" producing "Nordic Ch. Voila Amore Mio". Nowadays Ms Glumstrand is successfully breeding Havanese and has handed the breeding of the Bolognese to Laila Bergman of the" Puzinuz" Kennel also in Sweden.
At about the same time as the Bolognese were imported into Great Britain, Dorothy & Bert Goodale of the "Berdot Kennels" were importing the first ones into America, and eventually became the founders of the Bolognese Club of America.
On 19th November 1988 the first litter of Bolognese, were registered at the Kennel Club of Great Britain.  Mr J W Ogilvie saw the breed whilst on holiday in Europe, and decided to import two Bolognese from Italy bred by Adele Walschaertz of the 'Del Leone Fiammingo' Kennel. In total Mr Ogilvie bred 8 litters under his 'Camboalto' Kennel name, and since has bred no more.
Mrs Liz Stannard of the 'Shiarita' Kennels, well known for her top winning Pekingese, bought two Bolognese bitches from Mr Ogilvie named 'Camboalto Squeak' and 'Camboalto Snow Queen'. Then in 1990 she imported a bitch from the Danish, 'Jabir's Bo-Blanc' Kennels owned by Jan & Birte Warming, named 'Jabir's Bo-Blanc Femme Fatale'.
A friend of Liz's Miss Eleanor Powell of the 'Bryad' affix imported the bitch's brother, 'Jabir's Bo-Blanc Figaro'. These four little dogs were the foundation for the 'Shiarita' Bolognese. 'Figaro' & 'Femme Fatale' were the parents of that well known little Bolognese 'Shiarita The Italian Job', who won top winning Toy Import on several occasions, he sired some top winning Bolognese. One of which was Janice & Irene Evenden's first Bolognese, 'Shiarita White Frock Coat at Kashima', who was top imported register Bolognese for 4 years running. Liz bred and promoted the breed up and down the country at the dog shows in the early days. Barbara Andrews 'Chinensis Bolognese. Gina and Martin Taylor 'Fabio' Bolognese founded their kennels with the Shiarita breeding. At that time Barbara owned and campaigned 'Shiarita Contessa Chinensis' and Gina & Martin owned 'Shiarita Viennese Waltz at Fabio'. All of the above campaigned their dogs in the early days, although, Janice & Irene no longer show and Barbara only shows sparingly now. Gina & Martin continue to campaign their homebred dogs with great success. Their 'Fabio La Face Enfarinee' was sired by Barbara Andrews homebred dog 'Chinensis Corialanus' and was top winning Bolognese 1999 and 2000. I have just been lucky enough to purchase a little bitch Nikita from their line and look forward to showing her later in the year.
Bolognese making History
In 1997 Mr. C. & Mrs B Benerson imported a dog from the 'Baratcsillag' Kennels and Messrs. Maynard & Miller imported a dog bred by Ms. F Bonanno of the 'Platino Iridio' Kennel, in Italy. Liz Stannard went along to Mr. Alfonso Veronesi's Kennels in Italy, and was impressed by what she saw, so decided to import 5 more Bolognese, importing 3 herself and importing 1 in partnership with Eleanor Powell "Bryad" affix, and another in partnership with Kathryn Begg "Clarchien" affix. Kathryn also imported a male in all there were 2 males and 3 Females. Now the U.K. can boast all 10 lines for the Bolognese. Also in 1997 Mrs Barbara Benerson emigrated to Cuba, therefore giving up her Bolognese, and entrusting three bitches to Janice & Irene Evenden of the 'Kashima' affix. Jill Richards ('Chazard') took on one brood bitch, and Mrs Barbara Andrews ('Chinensis') used their Dutch bred stud dog on one of her homebred bitches, thereby widening the gene pool. Up to June 1998 there were just 251 Bolognese registered at the British Kennel Club. In June 1998 there were just 27 Bolognese registered with the British Kennel Club, 1999 54 were added, 2000 saw an additional 18.
On the 1st July 2001  they were finally taken off the Import Register and registered with the Kennel Club, that year there was  another increase to 48 registrations 2002 saw 36, from 2003 onwards the increase is quite substantial and jumps up to 60 for that year, 2004 saw 63 new entry's, 2005 another good year with 67, 2006 saw 72 and 2007 a staggering 102. At the end of 2007 there are a total of 547 registered.  Within ten years from 1998 - 2007 the numbers have risen from 27 to 547. They were so rare that they were only allowed to show at the Dog Shows in special classes allocated to them, and other very rare breeds, called Imported Register classes. They were not allowed to enter in any classes other than those, except in the small Exemption shows or at Match Meetings at show dog training classes.
In 1999 Bolognese were allowed at Crufts but only in the Discover Dogs section, they were not allowed to compete. In 2002 the great day arrived and the first Bolognese Classes were entered into Crufts for competition. there were just 17 entries, this year we had the grand total of 39 our largest entry yet, with overseas entries rising.
Champion Tommy
I have been trying to trace down the truth about Champion Tommy, there are so many stories about him, where he came from, how he was found what was his pedigree. He is in most Bolognese pedigree's somewhere, there is nothing of course behind him. I traced him back to Maria Luisa in Italy and asked her for the truth about him. This is the e-mail she sent to me.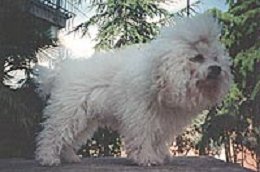 "As regard Tommy, you are asking to the right person because Tommy has been with me until his death. I have been told from my ex business partner - who was the first owner of Tommy - that he had found him in a pet shop. He was sold as a pet and had no pedigree. Nobody knows where he came from. Nobody knows about his parents.
The person who bought Tommy (Mr. Timpani) went to a show with him. The judge, when she saw this dog, said that it was the first one with Bolognese proportions. She had never seen such a Bolognese before, and for me it has been the same. When I saw Tommy for the first time I suddenly thought he was the first real Bolognese I had ever seen!
And so I contacted his owner because I was very interested in the breed and so we started our co-operation, Tommy remained with me and died at my home at the age of 17 !!! (He had hearth problems at the end of its life and had been under my cures for a long period)."
I then asked her how he became a Champion with no pedigree and she explained the Italian FCI regulations to me.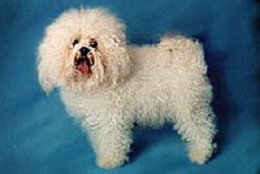 "It's identification as Bolognese and its show career developed this way. I explain you how things work in Italy. Example: Tommy had no pedigree. The first time he went to a show, he has been entered in class LIR. LIR is the class where you enter first-examples dogs, that is to say dogs with no pedigree. If the dog is recognized typical after its 1st show, he can get a 1st generation pedigree (no parents inside naturally). After having obtained this pedigree, you can start the championship. Only a thing: when the dog with a 1st generation pedigree makes a championship in Italy, its CACIB can be approved. But when the dog make a championship abroad and get a CACIB, this cannot be validated. If you take a look at the FCI regulations, you will see that the SRS book is still open for many breeds (SRS is the 1st generation book once called LIR).
This is more or less Tommy's strange history. A mysterious dog came from who knows where, that was the base for the restoration of the Bolognese breed!
The Bolognese Club of America was founded and established in 1987 by Dorothy and Bert Goodale. Below is the American standard that does vary from the UK Interim Standard in places: Particularly interesting is the description of the coat, where we advocate that the Bolognese has a single coat. , in America they refer to it as a double coat. Taken from the American Breed Standard. COAT: "The Bolognese is a double-coated dog. The undercoat being cottony and the outer coat being longer, glossy, and curly. Both undercoat and outer coat are soft. The hair is long, in locks, without laying flat against the body. They cover the entire head, body, and limbs, and appear shorter only on the forehead. Champaign color is permissible on puppies, as this indicates strong pigmentation in the genes. The adult dog is not to be faulted for small touches of champaign on the ears and occasionally on the back, but as an adult must give the overall appearance of a white dog. The coat is shown natural length with no trimming except for neatening around the bottom of the feet and for hygienic purposes. " Today, thanks to the hard work of some real dog lovers, the Bolognese isn't at risk of extinction any more, we have reached a certain level of a true genetic type within the breed, but there's still a great deal to do and it is essential we continue to safeguard it's heritage by breeding only from healthy parents who conform to the true Bolognese Standard thus maintaining it's long history of the perfect companion dog. I hope that this adorable breeds popularity will continue to increase all over Europe and America and even hopefully in countries where they is not yet known, they are quite unique, an ideal family companion who gives their owners a huge amount of love, laughter, and loyalty!

These are just a few of the famous art works in which we see Bolognese Toy Dogs as you can see they are not so different as we know today.



Fredico 11 Gonzaga A Painting by Titian 1523-29




Condesa De Chinchon A painting by Goya




Nelly O'Brien A painting by Sir Joshua Reynolds 1762-4




Husband and Wife A painting by Lorenzo Lotto 1543




Ladies Anabel and Mary Jemina Yorke A painting by Sir Joshua Reynolds 1760




A painting by Renoir




The Miracle of the Cross A painting by Carpacccio 1469




Venus and Cupid with an Organist A painting by Titian 1548




The Duchess of Alba A painting by Goya 1795




Georgina, Countess Spencer with
her daughter Georgina A painting
by Sir Joshua Reynolds 1760




Mrs Abington A painting by Sir Joshua Reynolds 1771

Characteristics: Intelligent and companionable
General Appearance: Small white Toy dog with a square, compact outline and a distinctive coat.
Temperament: Reserved.
Head and Skull: Wide flat skull. Nose to stop slightly shorter than from stop to occiput. Accentuated stop. Nose large, black.
Eyes: Large, round, dark with well pigmented rims.
Ears: Set on high, long, pendulous, carried away from head giving a broad appearance to head.
Mouth: Jaws level, with perfect, regular scissor bite, i.e. upper teeth closely overlapping lower teeth and set square to the jaws.
Neck: Clean, medium length.
Forequarters: Shoulders well laid, legs straight with slightly sloping pasterns. Elbows close to body.
Body: Well sprung ribs, brisket reaching to elbows making half overall height at withers. Level back, loins slightly arched. Point of shoulder to point of buttock equals height at withers.
Hindquarters: Well muscled, moderate turn of stifle, hocks well let down.
Feet: Oval, black nails and pads. Dewclaws customarily removed.
Tail: Set on at level of croup carried curved over back. Well feathered.
Gait: Normal and smart. Legs moving parallel. Ambling highly undesirable.
Coat: Long, flocked without curl covering entire head and body. Shown in natural state.
Colours: Pure white without markings, not even simple shadings. Lips, eyelids, nose and nails black.

Weight and Size: Dogs 27-30.5 cms (101/2-12 ins). Bitches 25.5-28 cms (10-11 ins).
Faults:Any departure from the foregoing points should be considered a fault and the seriousness with which the fault should be regarded should be in exact proportion to its degree and its effect upon the health and welfare of the dog.
Note: Male animals should have two apparently normal testicles fully descended into the scrotum.

These are the Interim Breed Standards as set out by The Kennel Club

The Bolognese need and do take your time. They will need to be combed thoroughly at least every
other day and ideally every day, as they are a non shedding breed we have to remove their dead
hair for them, therefore regular combing is necessary to prevent matting. Mats and tangles form
very quickly if unattended so they need to be kept on top of it. As with all things it is wise to
accustom the Bolognese puppy to their grooming routine early in order for them to get used to it.
You will need a wide toothed comb, to gently tease out any knots as you go and a fine tooth comb 
for the face. Never clip a Bolognese, this causes him to lose the protective cushion of air formed by
their long coat this helps to keep them warm and also protects them from overheating. Their eyes,
as with all white face breeds will need to be washed every day to prevent stains occurring. Ears and
nails have to be checked regularly and if they have access to grass rather than concrete their under
pads will need to be trimmed.


Bathing is necessary, but do not overdo it, as this can have negative affects on the skin and coat.
Obviously bath them if they are very dirty or in preparation for a show but normally once a month is
enough. Again if you bath your puppy when he is young as part of his grooming routine he will grow
used to it and it will be less of an ordeal for him and for you. Please remember it is very important
to always comb through thoroughly before the bath as once wet the water will just make any mats
harder to deal with afterwards. Always use a good dog shampoo and conditioner and most
important rinse out really well, their coats are thick and any shampoo or conditioner left in can
easily cause an irritation to the skin.
Please go to a responsible breeder for your puppy this is a rare breed with no major hereditary
illnesses at this time, help us to keep it this way.
Puppy Grooming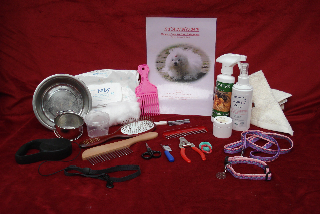 Puppy Equipment
Crate - Open mesh and that collapses for use in the car and house, it becomes their own personal space
and they will feel secure within it.
Blankets or cushions for their bedding – it is good to provide one for the puppy ahead of collection so it will have something familiar when to comes into your home.
Collar - Nice and secure - I find the quick -release ones are better than buckles.
Lead - The extendable ones are good until you have trained them.
Bowls - I prefer raised bowls as I think it is better for their digestion.

Brush - Normally Bolognese are not brushed they are just combed
Comb - Wide tooth comb, a small fine tooth for face and I like one with small and large teeth.
Nail Clippers - One with a guard on the back to stop you cutting the nails too short.
Scissors - Round ended for safety - for trimming the underpads
Puppy Toys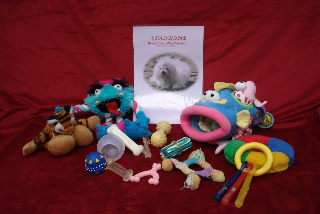 Puppy Hygiene
Eyes: Eye wash very important from vet or good pet shop, most breeders will have their own mixture and
will share the secret with you.
Ears: Bolognese need to have the inside of their ears plucked regularly there are special tweezers on the
market but fingers are just as good if not better. Your puppy will have had this done from an early
age by their breeder so they will be use to having it done. Ear wash is another important thing it
helps to keep the ears clean, fresh and keeps ear mites at bay. If they do get bad, a trip to the vets
will be necessary.  
Mouth: Dried food and Bonio's are good for massaging their gums, they will help keep plaque at bay, there
are many different types  of chew bones on the market which are also very good. Naturally you will
need to clean their teeth every day or at least on alternate days, you must brush teeth regularly.
Tooth Brush: Small baby brush is best or a finger brush for flexible direction.
Tooth Paste: Comes in several different flavours especially produced for your dogs palette.
Paws: Keep nails trimmed especially dewclaws – they are normally only on front paws, always trim the
hair under their pads and between toes.
Fleas: Lots of makes on the market – Frontline is one of the best. I give mine dogs garlic every day as
fleas hate it and it is also very good for the blood. I never have to use a flea deterrent.
Worms: Many products on the market I would be advised by your breeder or vet. It is very important
to worm both puppies and adult dog regularly.
Care of Coat: Good quality dog shampoo & conditioner, make sure you rinse it out really well.
Accidents and Shocks: Few drops of Rescue Remedy for you and your dog + Rescue Remedy cream for small abrasions,
both work wonderfully.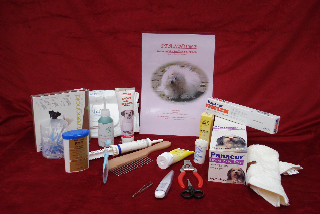 IF IN DOUBT, SEEK VET'S ADVICE.