Cavalier Breed Information
Ladies favourites in Tudor Courts, they are direct descendants of the toy spaniels featured in 16th and 17th century paintings. Their Royal title King Charles Spaniels was given to them by the Stuarts, in1928 the name Cavalier was added separating them from the short nosed King Charles.  
Characteristics | Breed Standard | History | Art | Care

Characteristics of the Cavalier King Charles Spaniel
Is the Cavalier King Charles Spaniel right for you?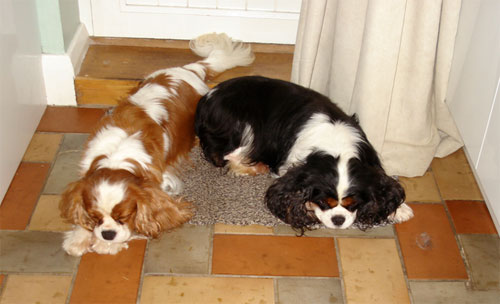 A lot of thought needs to be given to the matter before you decide to go ahead and buy a puppy.
Have you the time? They will certainly need it and they will take it.
The money? Even with pet health insurance a cost in itself, they are still expensive. Food, Medicines, Grooming Products, Kennels or a house sitter, the list goes on.
The patience? Of a saint sometimes, valuable time given whilst a puppy results in a well balanced, friendly, confident, and a good fun loving older dog.
The lifestyle? Think long and hard, a dog is a huge commitment. If you do decide that a Cavalier would fit into your household; you will be rewarded with the most wonderful friend and companion. A cautionary word however, often the idea of another Cavalier emerges " as a companion for the other dog" you understand !
As a breed, their temperament is gentle and they should never be aggressive in any way. They are fun loving dogs, they adore going out for a good walk and then it's indoors for a curl up in a comfortable armchair or even better on someone's lap to sleep off their exercise. Cavalier's just love to be with people - it was what they seemed to be born for. They are clever, joyful, intelligent and very good manipulators, loving their home comforts almost as much as they do their owners. They go to great lengths to achieve them, being allowed to sit on the best furniture! No you are not going to allow it - then quite suddenly there they are sitting next to you and you have been gently stroking them for ages, when you at last realize and go to move them, oh those wonderful eyes silently saying "you know I should be here I have Royal connections you know". The old expression "Getting away with murder" comes quickly to mind.
Whether you choose a dog or a bitch, there should be no difference in their temperament, one should be is as sweet natured as the other. They are very intelligent and learn quickly. Many Cavaliers go to obedience and agility classes where they can become quite proficient.
They come in four colours: 2 Whole Colours and 2 Parti Colours.
Whole colours
Black and Tan: Black with some tanning on the legs, tan eyebrows, tan at the sides of the face and under the tail.
Ruby: A rich red colour.

Parti Colours
Blenheim: A rich chestnut on a pearly white.
Tri-Colour: Black and white, with tan markings over the eyes, at the sides of the face, under the ears and tail.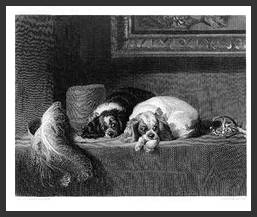 CAVALIER KING CHARLES SPANIELS of today are the direct descendant of the small Toy Spaniels seen in so many of the pictures of the 16th, 17th and 18th centuries. They were quite common as pets of the Court ladies in Tudor times but it was the Stuarts that gave them the Royal title of King Charles Spaniels. History tells us that King Charles II was rarely seen without several at his heels. With the coming of the Dutch Court of William III, they went out of fashion, and were replaced in popularity by the Pug and it wasn't until the 18th and 19th centuries that we start to hear about Toy Spaniels again. At this time there was a special strain of red and white Toy Spaniels being bred at Blenheim Palace by the Duke of Marlborough and they were well known for their sporting qualities, as well as ladies companions. Hence their name of Blenheim Cavaliers, probably the colour most associated to the breed by would be new owner's. In the early days there were no dog shows, and no breed standard, so type and size were very varied but in Queen Victoria's reign dedicated breeders began to hold dog shows and enthusiasts started to breed dogs seriously, to a desired type.
There were a lot of very able breeders who were successful in breeding dogs of the highest quality and fashion, flat faces, high dome, with very long ears set low this is type that is still popular today the King Charles Spaniel.
Mr. Roswell Eldridge, an American and a great lover of Toy Spaniels, came over to England and was unpleasantly surprised to find that there seemed to be none of the little nosey spaniels left. He immediately set about trying to change this by offering prizes at Crufts for three years, this was later extended to five. He offered £25 for the best dog and best bitch, of the variety of spaniels seen in King Charles II' time. This is a passage taken from Cruft's catalogue: "As shown in the pictures of King Charles II' time, long face, no stop, flat skull, not inclined to be domed and with the spot in the centre of the skull."
The King Charles breeders did not take these classes very seriously. They had worked hard for years to breed out the long nose, so it was hardly a popular move. As the big prizes came to an end, there remained only a few enthusiasts left to carry on the breeding experiment. One of the leaders amongst them was Mrs Hewitt Pitt but still, at the end of the five years, very little had been achieved. It was considered by The Kennel Club that there were not enough dogs meeting the Breed Standard to merit a separate breed registration at that time.
In 1928 a club was founded, and the title "Cavalier King Charles Spaniel" was chosen, at the first meeting which was held on the 2nd day of Crufts, a Breed Standard was drawn up that is almost the same today as it was then. Members brought all the reproductions of pictures of the 16th, 17th and 18th centuries that they could find and it was agreed that as far as possible the dog should be guarded from fashion, there was and still is to be no trimming. The dog chosen as nearest to the standard was Ann's Son, the property of Miss Mostyn Walker.
For the next few years progress was slow as Kennel Club recognition was still withheld and with no Challenge Certificates, few people were sufficiently interested to try to raise a breed with no sales value. Pioneers entered their dogs in Open classes at shows where the Show Secretaries were co-operative, there was rarely any financial reward but the dogs were presented to the public and gained in popularity. Gradually people became aware and it was generally accepted that the Cavalier King Charles Spaniel had come to stay.
Ch. Daywell Roger In 1945 the Kennel Club granted them separate registration, and the first set of Challenge Certificates followed a year later. The 1st Cavalier Champion was appropriately owned by Mrs Pitt's daughter Jane (Mrs Bowdler). He was Ch. Daywell Roger he was bred by Lt.Col. & Mrs Brierly and very widely used at stud, he was a major contribution to the development of the breed in the middle of the 20th Century.
By 1960 annual Cavalier registration at the Kennel Club had reached four figures and 60 Champions had been crowned. The breed was on its way and in 1963 Mrs Cryer's Blenheim Ch. Amelia of Laguna won the Toy Group at Crufts. The first Club yearbook covering the activities of 1964 was published in 1965. It was a slim red volume and needed only a single page to list the prefixes and affixes of all Club members. As registrations increased so did the number of Challenge Certificates offered at Championship shows and so did the size of classes. Exactly ten years after Amelia's triumph another Blenheim trumped her card to become Supreme Best in Show at Crufts. When he won he was quite a young dog not yet a Champion although he quickly became one - he was of course Messrs. Hall & Evans Ch. Alansmere Aquarius. This focused public attention on the breed both in Britain and overseas. Cavalier Clubs were already well established in U.S.A.. Australia and New Zealand, and had recently been set up in Finland and Sweden.
By the end of the 70's interest in shows had swollen to such an extent that Cavaliers always headed the Toy Group entries at our Championship events. The Club celebrated its Golden jubilee in 1978 with a social function at Royal Leamington Spa and a Championship show that drew a huge entry at nearby Stoneleigh. Amice Pitt graced the occasion as President and it was the last time many members were to see her alive as this formidable and well-loved lady was not in good health. She died in December 1978, the "Amice Pitt Rally" was held every year by the various Cavalier Clubs and was designed to keep fresh her memory and to acknowledge the debt we all owe her.
By the early the 80's registrations reached 10,000, there was now a need to have separate judges for each sex at most of the Championship shows. This was not a welcome development, but was inevitable with such large entries. At Crufts in 1981 Mr & Mrs Newton's Ch. Jia Laertes of Tonnew won the Toy Group. In the 1990's, Cavaliers still regularly topped the Toy Group entries at general Championship shows., they have been successful at Group level and several went on to Reserve B.I.S. In 1993, Messrs. Hall & Evans' Ch. Spring Tide at Alansmere broke the breed C.C. record set by Ch. Aloysius of Sunninghill in the 1960's, and finished the year with 23 C.C.'s..
This record was subsequently broken by Rix & Berry's Ch. Lymrey Royal Reflection, and in the bitches with Ch. Lymrey Top of the Pops. Up too the end of 2007 both CH Keyingham Bramwell and Wandris Entertainer have amassed 34CCs each. They have become EQUAL NEW BREED RECORD HOLDERS.

These are just a few of the famous art works in which we see King Charles Spaniel Toy Dogs. Not so different as we have today with our Cavalier King Charles.



Venus of Urbino A painting by Titian 1538




Caroline Duchess of Marlborough Painting by Sir Joshua Reynolds 1759-62




Portrait of Clarissa Strozzi A painting by Titian 1542.
This dog was chosen in 1938 as a model of the Breed.




Interruption of Music 1675 Jan Verkolje (Johannes)




Margaretha Delff 1674 Jan Verkolje (Johannes)




Miss Bowles Painting by Sir Joshua Reynolds 1775




Portrait of Eleonora Gonzaga della Rovere 1536 A painting by Titian




Portrait of a Lady holding her Pet Spaniel mid 1600's
Jan Verkolje (Johannes)




Mars and Venus with Cupid 1580 Paolo Veronese




Portrait of Vendramin Family 1543 Painting by Titian




The Hon. Miss Monckton A painting by Sir Joshua Reynolds 1777




Woman nursing an infant 1675 Jan Verkolje (Johannes)




The Marlborough Family A painting by Sir Joshua Reynolds 177-8

Cavalier King Charles Spaniel Breed Standard
Characteristics: Sporting, affectionate, absolutely fearless.
General Appearance: Active, graceful and well balanced, with gentle expression.
Temperament: Happy, friendly, non-aggressive, no tendency towards nervousness.
Head and Skull: Skull almost flat between ears. Stop shallow. Length from base of stop to tip of nose about l½ inches. Nostrils black and well developed without flesh marks, muzzle well tapered. Lips well developed but not pendulous. Face well filled below eyes. Any tendency to snipiness undesirable.
Eyes: Large, dark, round but not prominent, spaced well apart.
Ears: Long, set high, with plenty of feather.
Mouth: Jaws strong, with a perfect, regular and complete scissor bite, i.e. the upper teeth closely overlapping the lower teeth and set square to the jaws.
Neck: Moderate length, slightly arched.
Forequarters: Chest moderate, shoulders well laid back, straight legs moderately boned.
Body: Short-coupled with good spring of rib. Level back.
Hindquarters: Legs with moderate bone; well turned stifle - no tendency to cow hock or sickle hocks.
Feet: Compact, cushioned and well feathered.
Tail: Length of tail in balance with body, well set on, carried happily but never much above the level of the back.
Gait: Free moving and elegant in action, plenty of drive from behind. Fore and hind legs move parallel when viewed from in front and behind.
Coat: Long. silky, free from curl. Slight wave permissible. Plenty of feathering. Totally free from trimming.
Colours: Recognised colours are:
Black and Tan: Raven black with tan markings above the eyes, on cheeks, inside
ears, on chest and legs and underside of tail. Tan should be bright. White marks
undesirable.
Ruby: Whole coloured rich red. White markings undesirable.
Blenheim: Rich chestnut markings well broken up, on pearly white ground. Markings
evenly divided on head, leaving room between ears for much valued lozenge mark or
spot (a unique characteristic of the breed).
Tricolour: Black, Tan and White well spaced, broken up, with tan markings over eyes,
cheeks, inside ears, inside legs, and on underside of tail.
Any other colour or combination of colours most undesirable.
Weight and Size: Weight - twelve to eighteen pounds. A small well-balanced dog well within these weights desirable.
Faults: Any departure from the foregoing points should be considered a fault and the seriousness with which the fault should be regarded should be in exact proportion to its degree and its effect upon the health and welfare of the dog.

These are the Breed Standards as set out by The Kennel Club

Cavaliers usually molt twice a year, at this time they will need extra brushing to avoid covering you and your house with their hair! They are generally good eaters and the adult dog will need one feed per day with a possible bedtime biscuit! How many overweight Cavaliers do you see around, usually they are fat due to their owners – their excuse is, I just can't resist their pleading eyes, I just have to give them a tit bit! These eyes can convey feelings to you that are almost impossible to ignore "melting eyes" would describe them well. However, if you overfeed them the consequences can be an early death. Just remember too much weight is very bad for the dog and sadly, the breed has a history of heart problems. Good breeders will now screen for this before breeding their dog. The Cavalier King Charles Spaniel Club is sponsoring a huge research project into the heart problem. Cavalier owners with the help of the regional clubs have raised huge amounts of money in the UK. It is, therefore, important to go to a good Breeder to buy your puppy. If you need help to find one, look under "Puppy Register" on the Club website to find a list of the Clubs Co-ordinators, contact your nearest one and they will point you on the right direction. Another problem Cavaliers can have is with their eyes, once again a good breeder will have had the parents eye tested before mating. Do check that they have clear heart and eye certificates for both parents.
Never buy a puppy that is not with its mother, the litter should be Kennel Clun Registered, have clear eyes with no discharge from their eyes or nose, feel plump in the hand, a nice shiny coat, be unafraid to play and cuddle you after a few minutes, watch it with it's litter mates to make sure it is not aggressive towards them A happy puppy is contented. Avoid advertisements in the paper and pet shops without any certificates to show you, puppy farms will almost certainly have been bred for commercial gain without any screening for heart or eye problems and will often have socialization problems.
Please remember that a dog must fit into your lifestyle. They need to be part of the family and you should not have one if you haven't sufficient time to give it.
Below you will find a brief list of Puppy/Dog equipment you will need to take care and groom your pet. Remember to place your dog on a non- slip surface before you start.
Puppy Equipment
Crate - Open mesh and collapsible for car and house use, its becomes their own personal space and they will feel secure within it.
Blankets or cushions for their bedding – it is good to provide one for the puppy ahead of collection so it will have something familiar when to comes into your home.
Collar - Nice and secure - I find the quick -release ones are better than buckles.
Lead - The extendable ones are good until you have trained them.
Bowls - Most Cavaliers don't like a shallow bowl, deeper ones will keep ears clean and dry.
Brush - Soft bristle if possible & a small soft slicker brush for ears & feathers.
Comb - One with small and large teeth.
Nail Clippers - One with a guard on the back to stop you cutting the nails too short.
Scissors - Round ended for safety - for trimming the pads.
Tooth Brush - Small baby brush is best or a finger brush for flexible direction.
Tooth Paste - Comes in different flavours especially for dogs.
Puppy Equipment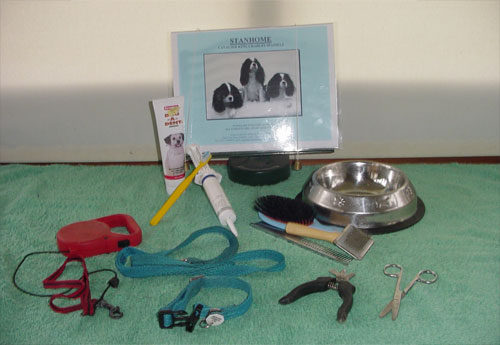 Puppy Toys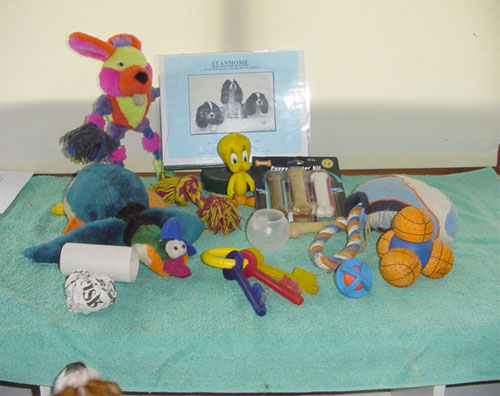 Puppy Hygiene
Eyes - Eye wash very important from vet or good pet shop
Ears - Ear wash is important with Cavaliers helps to keep ear mites at bay. If they get bad a trip to the vets will be necessary.
Mouth - Dried food and Bonios are good to massage gums and help keep plaque at bay and special chew bones are very good. Naturaly you will need to clean their teeth every day or alterate days, you must brush teeth regularly.
Paws - Keep nails trimmed especially dewclaws – they are normally only on front paws, always trim the under hair on pads and between toes.
Anal Glands - Watch for them sliding their bottom along floor repeatedly, it could be their anal glands are blocked, this will need a vet to empty them.
Fleas - Lots of makes on the market – Frontline is one of the best. I give mine garlic every day as fleas hate it and it is also very good for the blood.
Worms - Once again lots of good makes on the market - seek vets advice.
Care of Coat - Good quality dog shampoo & conditioner, make sure you rinse it out really well.
Accidents and Shocks - Few drops of Rescue Remedy for you and your dog + Rescue Remedy cream for small abrasions, both work wonderfully.
Puppy Hygiene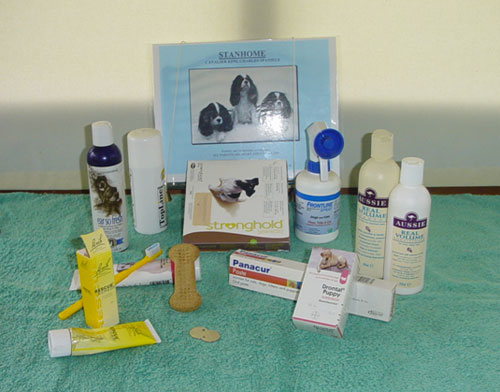 IF IN DOUBT, SEEK VET'S ADVICE.