Foundation Dogs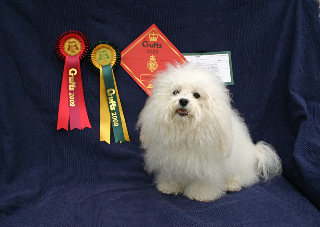 Simo Aphaia of StanHome
"Simo"
New arrival from Slovakia, April 2007
My thanks must go to Ladislav Kamenicky for allowing me this  wonderful Bolognese, our stunning Simo. We are the first people in the UK he has allowed to import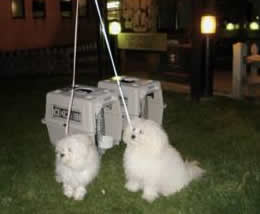 from his famous Aphaia Slovakian kennels. Simo came out of his flight cage with great aplom, a real cool dude, hi it's me, so this is England, I just know we are going to be great friends. Instantly it changed too a huge amount of tail wagging, a wonderful amount of abandon licking but most important without apprehension, it was instant love between us all.  Simo has lived up to all our expectations as a show dog and recently at stud, he is a loyal and wonderful companion. He gives 101% and still there is more, he is always there beside you with that gentle enquiring gaze, did you call mum, can I help with that chicken?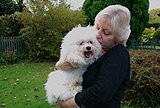 Sebastian Aphaia of StanHome
"Seb"
New arrival from Slovakia, October 2009
This was very exciting for me although Sebastian was coming from Ladislav he had been born and bred in America so this was a first. He would bring in completely different breed lines making him a very important addition to the Bolognese gene pool in the UK. I had been contemplating America for quite a while but knew nothing about the breeders over there, with Ladislav's parenting, which I knew so well I felt very secure in both his temperament and quality. I also knew he would be true Breed Standard.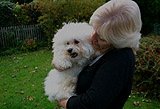 He travelled overland with a returning English breeder literally straight from gaining a 1st in the W.D.S. show ring, into a motor home and on to us. What a joy he is, there was no unease straight out of the car into my arms, he has just endorsed all we already know and love about the breed. He is a playful as a puppy, outgoing, friendly to everyone he meets, always exploring and bringing home his trophies, I absolutely adore him, he will make a wonderful Show and Stud dog.

Foundation Bitches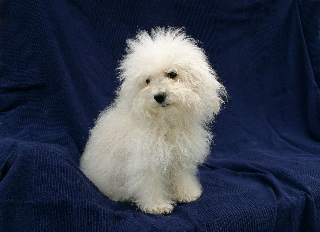 Radamantino Isabella of StanHome
"Isabella"

First new arrival from Italy, November 2006
My thanks must go to Maria Lusia for my first long awaited beautiful Bolognese from her Radamantino Italian kennel. She arrived a tired, dazed and confused from the flight with two friends impo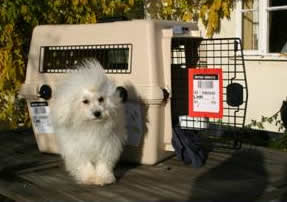 rted the same day only to say goodbye at the airport. It did not take long for her to regain her natural personality and become the character she is today. At 11 months old which they have to be because the rabies restrictions she had to adjust to a completely new way of life with Cavaliers as friends instead of Bolognese. As an introduction to my new breed she was perfect we learnt everything together and as a result are very close. What can I about our Isabella, she is bossy, lovable, a guard dog, and truly a faithful companion She is just and always will be our Izzi.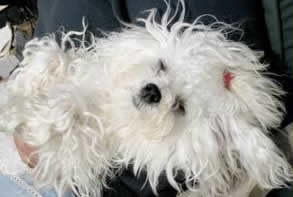 Sisi Aphaia of StanHome
"Sisi"

New arrival from Slovakia, April 2007
My added  thanks go to Ladislav for allowing me Simo's litter sister a wonderful little Bolognese bitch, our all feminine Sisi. As this was the first time he had allowed any of his kennel to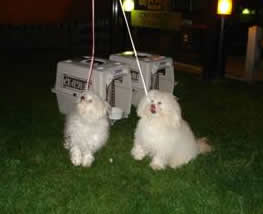 come to the U.K. to acquire two was amazing. She came out of her flight cage like a mini tornado, licking, wagging skipping but most important of all without any reservations ready for her next adventure in life. Sisi or (FeFe) as we call her is an Angel, a petite princess, a minx, quiet one minute a bundle of energy the next but so much the little lady, always ready to give and receive a cuddle. In the 20s she would have been the darling of the stage. As with Simo she loves and trust us and is truly everything we could have hoped for.
A TRUE BOLOGNESE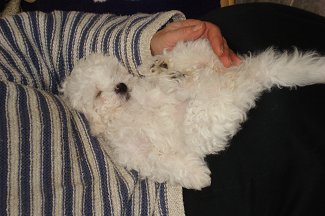 Fabio Nikita of StanHome
"Nikita"

Our English Heritage
New arrival, January 2008
Thank you Gina and Martin for Nikita, she is my first English Italian Bolognese. We were able to see her at just 7 weeks and collect her at 10, she is just two months younger than our own two puppy's that we kept Ladislav and Beatrice so hopefully she not will feel lonely leaving her brother and home. We had an eight hour round trip to collect her and for the return four hours she slept on my lap, it is always such a good bonding time. Once in the house any apprehension we had disappeared in a cloud of racing paws, wagging tails, yelps of approval and literally a cloud of dust.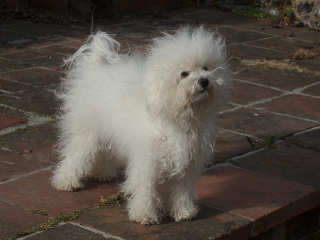 To us she seemed small compared to the other two but not to her, by her reckoning she wasn't small they were just slightly oversized and that really sums up Nikta's attitude to life. By seven o'clock she suddenly just collapsed, she just went out like a light on my lap, one minute there was Nikita the next an exhausted but happy puppy. The next days were just a huge ongoing adventure for her always something or someone new, first there and last out, so many licks, tail wags, I think the next few months I may need pep pills to keep up with her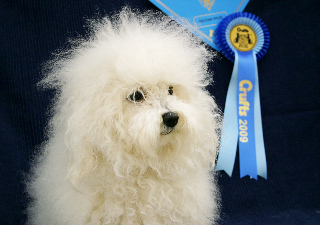 Radamantino Circe of StanHome
"Katarina"

New arrival from Italy, April 2008
Little Radamantino Circe – our second Radimantino bitch has arrived at Heathrow airport from Rome. She is lovely, huge eyes nice square body, not too small, everything I wanted to enhance my long term Bolognese breeding programme.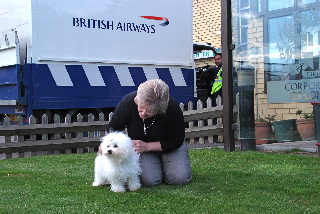 Hopefully she will enjoy showing as much as the rest of the dogs and become part of our very close knit family.
My thanks go to Maria Lusia again for allowing me to import and taking such good care of her for so long.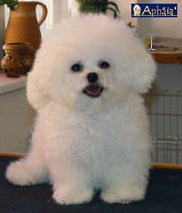 Dina Aphaia of StanHome
"Dee -Dee"

A new arrival from Slovakia June 2009
Once again we have to thank Ladislav for allowing us another of his Bolognese, a little Bitch Dina, she will never, never, replace our precious Sisi but with the same mother there was a very poignant moment as she emerged from her flight crate. She was so tiny, with great big eyes staring at us, unsure about what had happened to her since she awoke as usual this morning. A little ball of white trembling fluff but able to look you square in the eyes. Never doubting herself or us, after all she was all grown up and could cope with anything, but please cuddle me anyway just to make you two feel secure - not her you understand.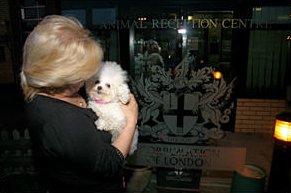 This little lady, is going to be her own person, she was a little camera shy to start with but her confidence is growing and she has charmed us all. As yet we do not know if she will be a star of the stage like her half brother Simo or a home bunny as Fefe was, either way she has found a place in our hearts as well as increasing our beloved Bolognese family. .
Home Bred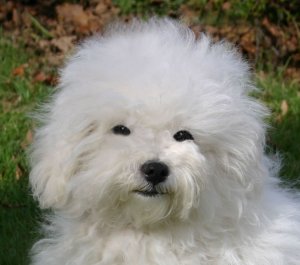 StanHome Ladislav
"Ladi"
Ladi arrived twenty minutes after Eloisa, once again not a murmur from Izzie to say there was another puppy on the way, suddenly he was just there being cleaned by mum, so much for my detailed whelping chart, just a few quick notes as reminders to be able to complete the chart accurately later. He was to be Antonio, I had decided on my names beforehand, another good idea bites the dust! When I e-mailed Ladislav the next day to tell him the news he was delighted, he had become so attached to both him and Fefe. Having kept them 11 months for me I know it had been a wrench to part with them. It was Simo's first litter plus they were born on his own birthday, that was how he became Ladislav, or my lovely Ladi as he is known. He is so gentle and loving, his coat is thick, his pigment jet black, he is a miniature Simo and as long as he is with you he is happy.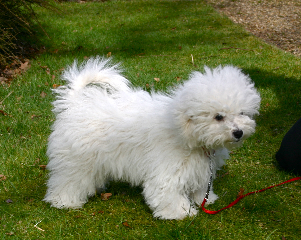 As he grew up he developed his own little endearing ways, he has a habit of resting his head on your lap, giving a contented long sigh as if to say – here we are together again and promptly falls asleep, Simo & Son are so very alike. He is full of boundless energy and would go to the ends of the earth for you - sometimes when he appears from the bottom of the garden it really looks as though he has actually been there and back. He has been to 3 shows, on the first we met up with Eloisa again and they both qualified for Crufts 2009, a proud moment for me. He walks around the show ring like a dream appearing to take everything in his stride, stands beautifully for me - he really shows his socks off (well he would if he wore them) but it didn't take me long to realize that he does it just for me, he doesn't really like the hurly burly of the show-scene, he prefers the quiet home life and so with a lot of regret I will not show him again, for me it is so important that my show dogs really love the life, they need to be extroverts, to get really excited about the preparation, the whole package, my Ladi just wants to be an adorable, cuddly, home bunny and that is just what he now is.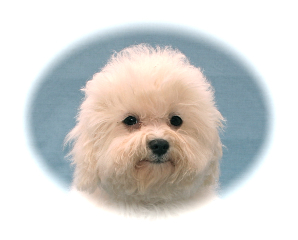 StanHome Bella Sofia
"Sofia"
On April 19th - early as usual, Isabella produced our 2nd litter, first came a little girl, followed very quickly by her 3 brothers. By being first born I think Sofia was making a point and also making it very clear to her brothers, "don't think you can push me around because you are boys" and they didn't. As soon as she was born I knew that she had to stay, a sixth sense maybe but she knew how to weave her magic on me from the very beginning. She was and still is very petite, but by no means a shrinking violet she stood her ground with the boys and adults and expected them all to play with her when she wanted to play. She is usually first for the food, walks, and cuddles, all of those being her favourite pastimes. I will suddenly sense someone's eyes boring into me and when I turn around there she is, just like her father, with her big soft eyes asking "what am I doing here on the floor when your arms are empty', I can never find a reasonable answer so she ends up with yet another cuddle.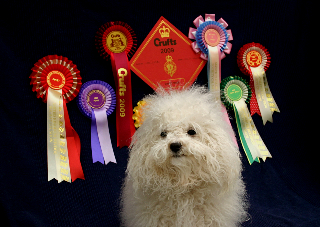 She is headstrong, like her Mother, there is never a doubt as to what she means, no need for words, coupled with the lovely gentle nature of her Father she is an absolute darling, but then aren't they all. It is lovely to see her developing and hopefully she will go into the ring, she has that natural Bolognese exuberance for life, she loves people, is a bit of a show-off and really enjoys her walks and all the attention she gets when out. One of her less favourite things is being groomed as it means she has to stand still for a while so showing should be interesting. Sofia is a typical Italian Bolognese, small, square, big dark eyes, good pigment, lovely thick coat and of course that beautiful temperament that is so unique within the breed.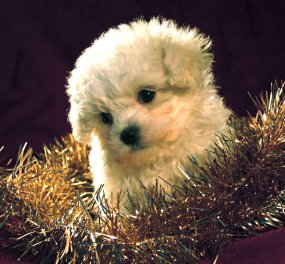 StanHome Bella Beatrice
"beatrice"
We moved house on the 1st of October. On the 3rd we were urgently called down south, after two very busy, tiring days plus a 4 hr return journey we arrived home on the 4th at 8.00 in the evening. We were both looking forward to that well- earned drink and a relaxed evening meal. Now anyone who knows our Isabella would have had doubts about that but not us, naïve, or what! She wasn't due until the 11th and was being looked after by another Cavalier breeder and close friend, who is very experienced and would read any signs well in advance - so life should calm down for a few days, shouldn't it? Our coats were off, the heating on, ice cubes were literally in the glasses and that very well earned drink was ready to pour when the phone rang – it was Carol, she thought Isabella was having her first light contractions but as she was so relaxed and no other signs at all she wasn't certain, still she felt we had best come over, so off we went.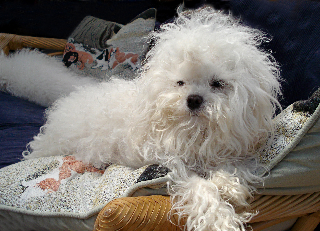 We arrived five minutes before Eloisa was born, not a murmur from Izzie, not even the flicker of an eyelid then suddenly there she was, very quickly and silently, the next two followed the same way, then there was Beatrice, the last, the smallest, and the noisiest. She was tiny compared to her litter mates, miniature. I had a fight on my hands to keep her alive, substituting her feeds with tube feeding, then after the first week she suddenly decided she'd rather like to live, rejected the tube and took control of both the situation and the life. She found that by sneaking underneath the others instead of trying to compete with them she could get to any spare teat she wanted, that was and is her philosophy in life "she does it her way". She is mischievous, stubborn adorable, everyone who meets her just falls in love with her, especially us.