Foundation Bitches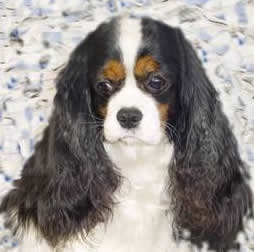 Simpatico Mistletoe-n-Wine at StanHome
"Hope"

Dame: Kemstra Yolanda of Simpatico
Sire: Trirayne Alexius the Great
Hope joined my two older Cavaliers Gabriella and Ragamuffin and was my first show bitch and mum. I owe huge thanks to Carol Godwin of  the Simpatico Kennels who has became a mentor and now long term close friend and show companion in my long and eventful Cavalier career. Hope had a wonderful character gentle but plenty of spirit she adored being a mum and never seemed to forget her puppies. She infrequently showed in the ring and only to please us, she never  really enjoy it although with her ears she was very glamorous, she lived to become a great grandmother and was our beloved pet.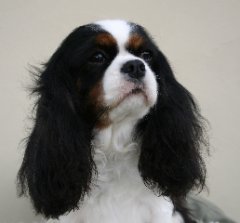 Muffity Adorable Ellesse of Stanhome RCC
"Lee-Lee"
Dame: Muffity Adorable Chloe
Sire: Muffity Jacob
I bought Lee-Lee from Jenny Hall, Muffity kennels who is a very successful breeder and show person. Like Hope, Ellesse was an older bitch when she came to us but she slotted perfectly into our home. She was and still is definitely the glamour girl of the pack with a most unusual face, almost regal, with large almost almond shaped eyes and a very soft expression. She is our star, our showgirl gaining her Stud Book number and a RCC. Producing the most beautiful puppies for us but like all true stars she is known to be a little vocal if she feels hard done by, an absolute joy to show and own.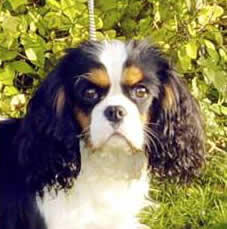 Valanroy Uptown Girl at StanHome
"Tilly"
Dame: Valanroy Abbra Cadabra
Sire: Clopsville Kansas JW RCC
I got  Tilly from Ann Peck  the Valanroy kennels. I saw her as a puppy whilst a friend was visiting Ann looking for a puppy for herself. It was instant love and although she was not for sale I badgered poor Ann until she at last said I could have her. She was my first Cavalier show puppy and is our youngest foundation bitch. She was a super show dog, absolutely loving the ring when it was her class she went out there saying look at me, I am here, she gained her Stud Book number at eighteen months, has a spirited nature and her name suits her to a T ---  she is just our Tilly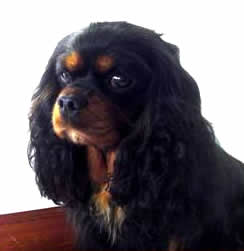 Lilypin Black Velvet at StanHome
"Jo-Jo"
Dam: Make Mine Lady Luck
Sire: Ch. Myhope Fever
I had always wanted another Black and Tan, never having the courage to breed from Gabbie.  Jo-Jo is unique, a character, an extrovert, she has known her own mind since a puppy, she gets away with murder. In the ring judges always seemed to place her no matter how she behaved. She is the gentlest of cavaliers, loves a cuddle, licks you to death and adores walking. We were told she couldn't have puppies, three weeks later she unexpectedly produced just one.  Next time she would need a C-section, wrong again, she produced four puppies on her own with us looking on. See what I mean about Jo-Jo.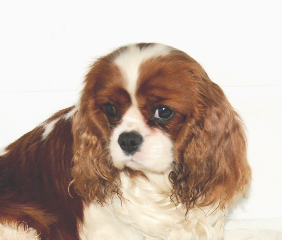 Pascavale Carousel for Stanhome
"Carrie-Anne"
Dame: Pascavale Mardi Gras
Sire: Ch Miletree Nijinsky
What can I say about Carrie-Anne she is a very self contained dog likes her own company, but adores people once she knows them, always the last there except for food times when she miraculously appears from nowhere to be at the front of the queue before the rest cotton on. She was a devoted mum but a watcher rather than a player. She discovered her puppies late and at 10 weeks decided they were really good fun and they all play together like puppies, it is lovely to watch.